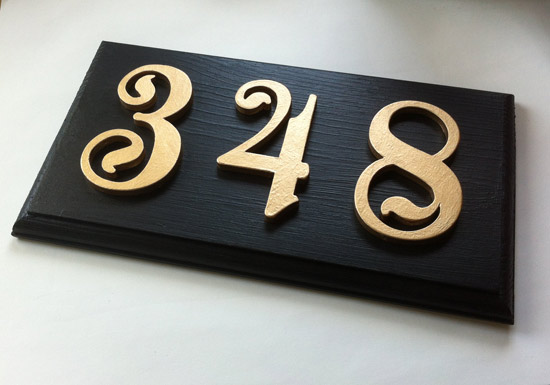 And we got them finished and installed!
They actually arrived before we went on vacation but I knew they would take some prep before they were ready to install. They came in the sheet of MDF they were cut from (seen below).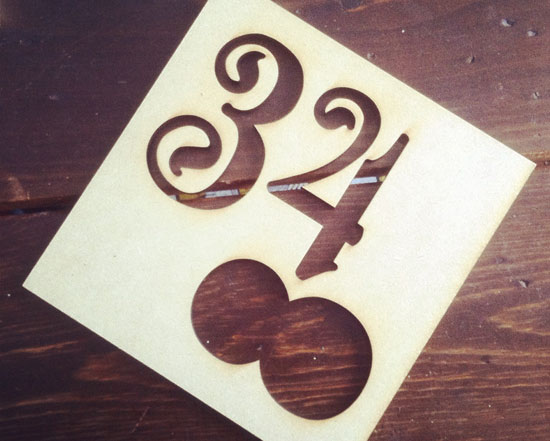 As I mentioned before, I chose MDF over wood because I knew I'd be painting the numbers. Material + cutting came to around $20. On etsy I found a nice seller who sold me a wooden plaque of the exact size I wanted for about $10 including shipping.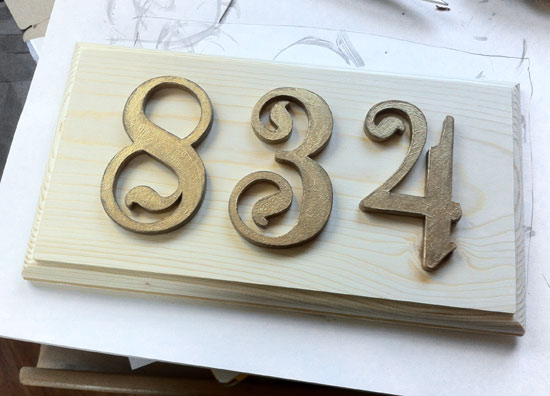 As you can see above, I did some experimenting with paint. Turns out that metallic acrylics don't look anything like gold leaf when applied to large areas. I did some research on gold leafing and found out some good information for future projects, but I didn't want to invest the funds on those supplies right now. I tried painting the numbers off-white, same as the house trim, and it looked okay but nothing special.
Randall spotted a small bottle of "gold leaf finish" enamel at our local hardware store ($6) and I decided to give it a shot. It has to be applied liberally in one coat or else you'll pick up previous layers.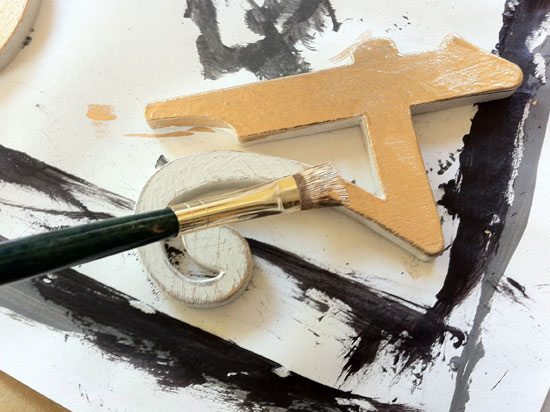 It's not super authentic but it looks pretty nice (see top photo) and a lot less cheesy than the regular metallic paint did.
I'd painted the plaque a dark charcoal off-black, a couple steps darker than our house paint (I might do the mailbox this color too) and then epoxied the numbers to the plaque. I doubted the durability of the gold leaf paint so lastly I sprayed the whole thing with an outdoor clear coat. Randall drilled some counter-sinked screw holes through it and hung it up.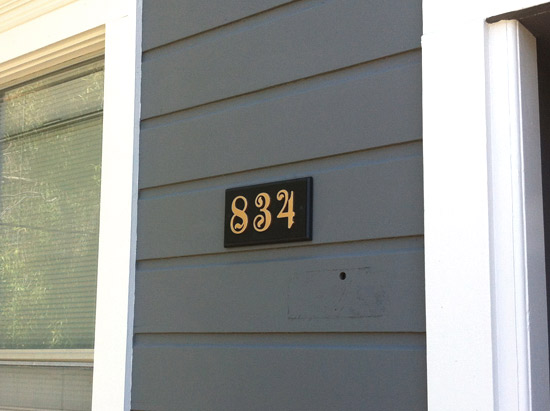 Yeah! I'm really happy with them and it came to about $38. More than you'd spend on hardware store numbers, but less than you'd spend on a custom-made plaque. It wasn't that hard and no one will have numbers like ours. When in doubt, go for unique!