Hi guys. As I mentioned, we moved to Portland from Alameda last July. It's had its ups and downs, but it was definitely the right decision. In December we moved from our temporary apartment to the house we bought in the Piedmont neighborhood of North Portland. Portland is crammed with bungalows and Edwardian-era four-squares and I didn't think we were going to end up in another victorian, but we did.
We found it quickly, but we only got it through bargain shopping and luck. It had been a rental for a few years and was a little beat up, the owners lived out of town, and it may have been priced a little high at first, so it was languishing on the market. We scooped it up with the help of a very sharp real estate agent.
I was hugely excited about the photo above (a digitally produced copy of the original) that came with the house. I don't know who those people are, but they are presumed to be the first owners. I like to think about the place being haunted by squealing teen girls.
You can see from the pictures below that it got a bit craftsman-ized along the way, to better match the majority of the homes in the neighborhood. I have mixed feelings about that – it lost a little bit of the millwork and some of the stained glass, but it gained a big porch.
This is an insane house for us. It's not a mansion, but it's more house than we EVER conceived of owning in the Bay Area. We weren't looking to go bigger, it just happened to be the bargain when we set out to look. So our new mortgage isn't as small as we'd hoped it would be by moving, but it's less money for about twice the square footage.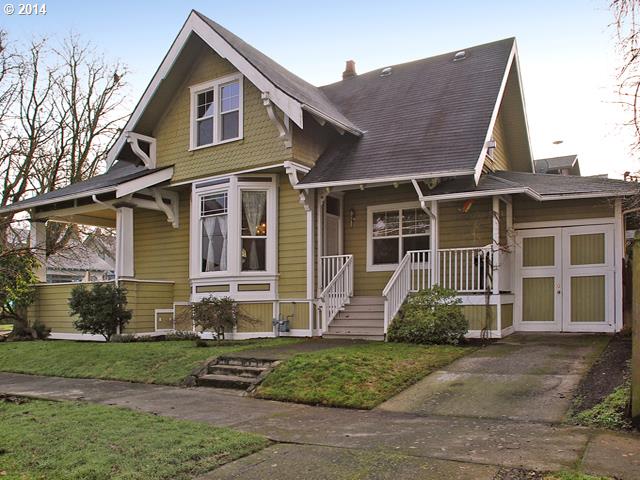 These are MLS photos from some time ago (despite the 2014 watermark), and the paint job isn't in good shape anymore. There's a whole lot we want to do to this place, but money is a little tight right now – because of reasons I'll get to soon. I'll try to update a little more frequently! Thanks for visiting.