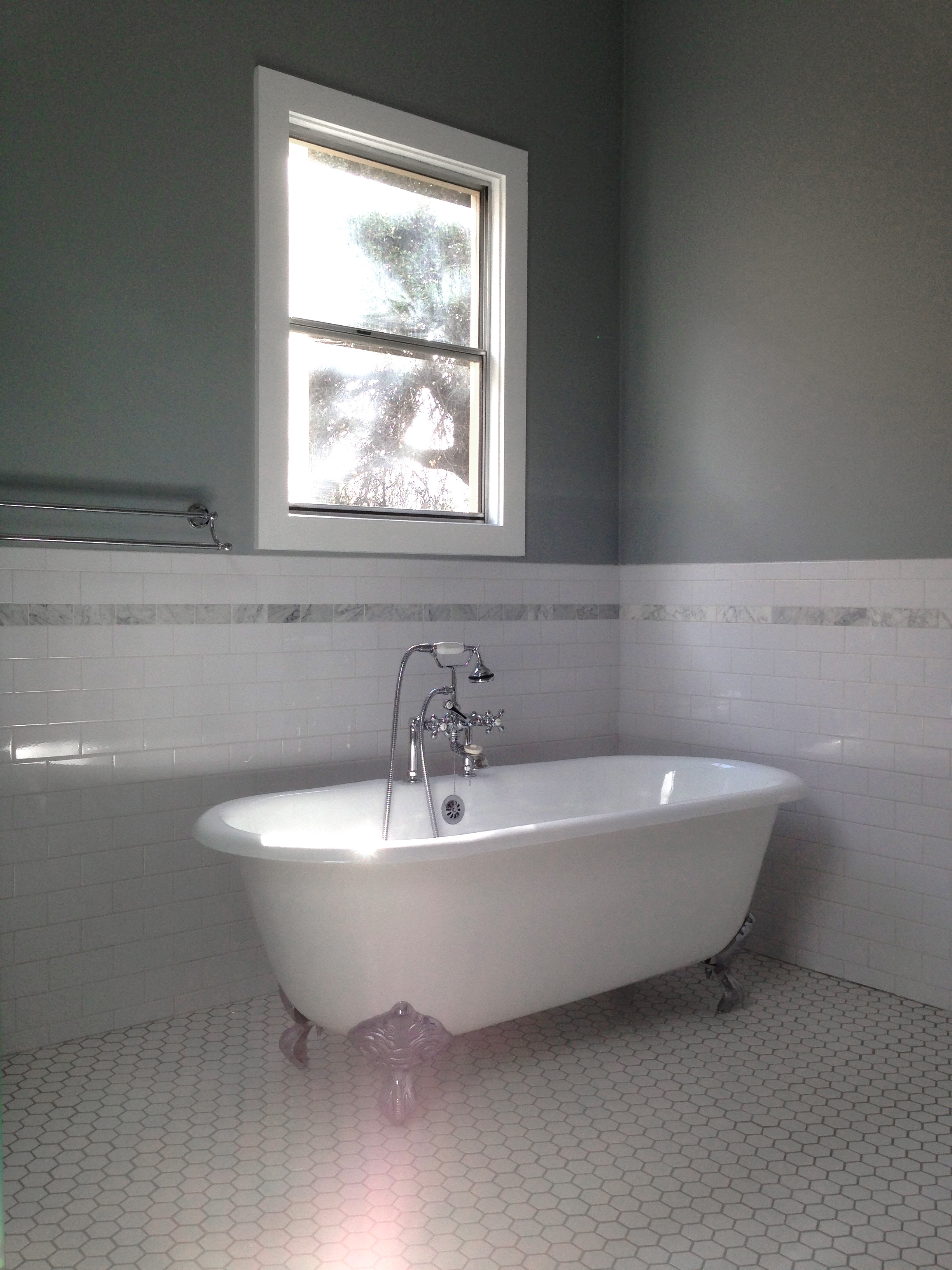 I need to tell you that we've moved. That's why I've been offline so long. I'm sure the explanation of that (and introducing our new house) will make for a long post, but before I get to that I want to show the beautiful bathroom we finally made and left behind.
We were without a shower or upstairs toilet for about three weeks. We did have a toilet in the basement but it required going outdoors to get to. There was also a shower at my work that I used, but it was a sub-optimal situation overall. But that's what happens when you have to replace a whole house's worth of 60+ year old galvanized plumbing in addition to a stripped-to-the-studs remodel (with bonus discoveries of rotted wood!).
So what did we finally do? Whole room, 4-feet high of plain white subway tile with a bullnose edge and a single stripe of smaller Carrara marble near the top. The subway was simple and cheap. The marble was more expensive per, but obviously a much smaller amount was needed. The floor is 2-inch white porcelain hexagons. 2-inch was not the easiest to find but I thought the scale would work better than 1-inch since the room is pretty big. I found it for $4.25/sq ft from a website but they were backordered and I needed it quick so we ended up paying almost $2 more locally. That said it went for as much as $10 per square foot locally, so I feel like we paid a fair price.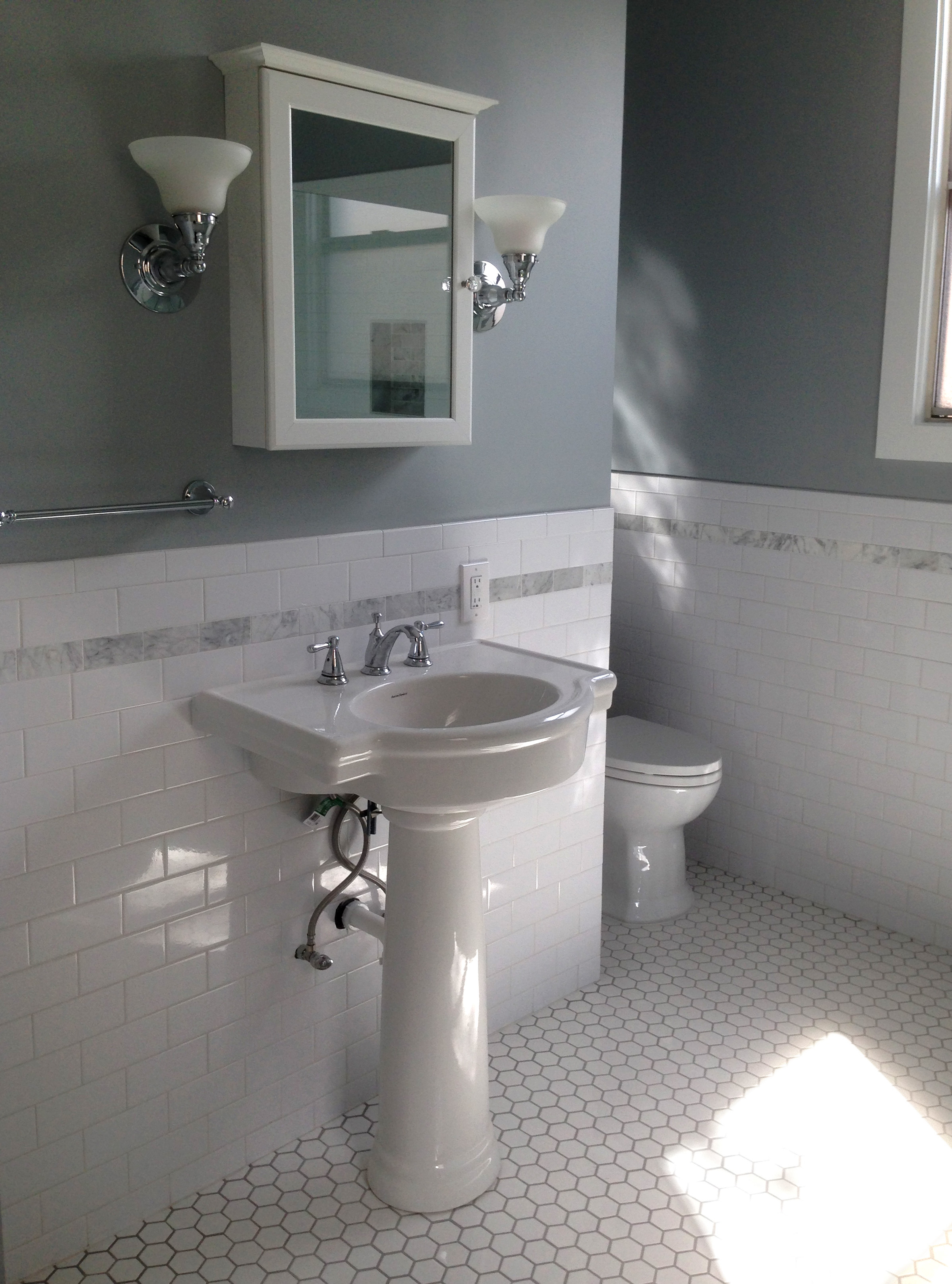 Going in I wanted a separate tub, preferably clawfoot, and Randall wanted a snazzy Japanese toilet. Our compromise was getting both. The tub is one of the basic packages from Vintage Tub & Bath. Very happy with it. After looking and pricing Randall scaled back a bit from the super-sentient mecha robo-toilet he had been dreaming of and we selected one that is a nice, fancy-flushing, 1-piece skirted toilet somewhere between classic and modern: the Toto Eco Soireé. As much as I like antique fixtures I don't think a toilet needs to be period-correct and the design of this one will make it easy to clean (a toilet priority). We got a pretty good deal on it – don't let the list prices on this stuff fool you.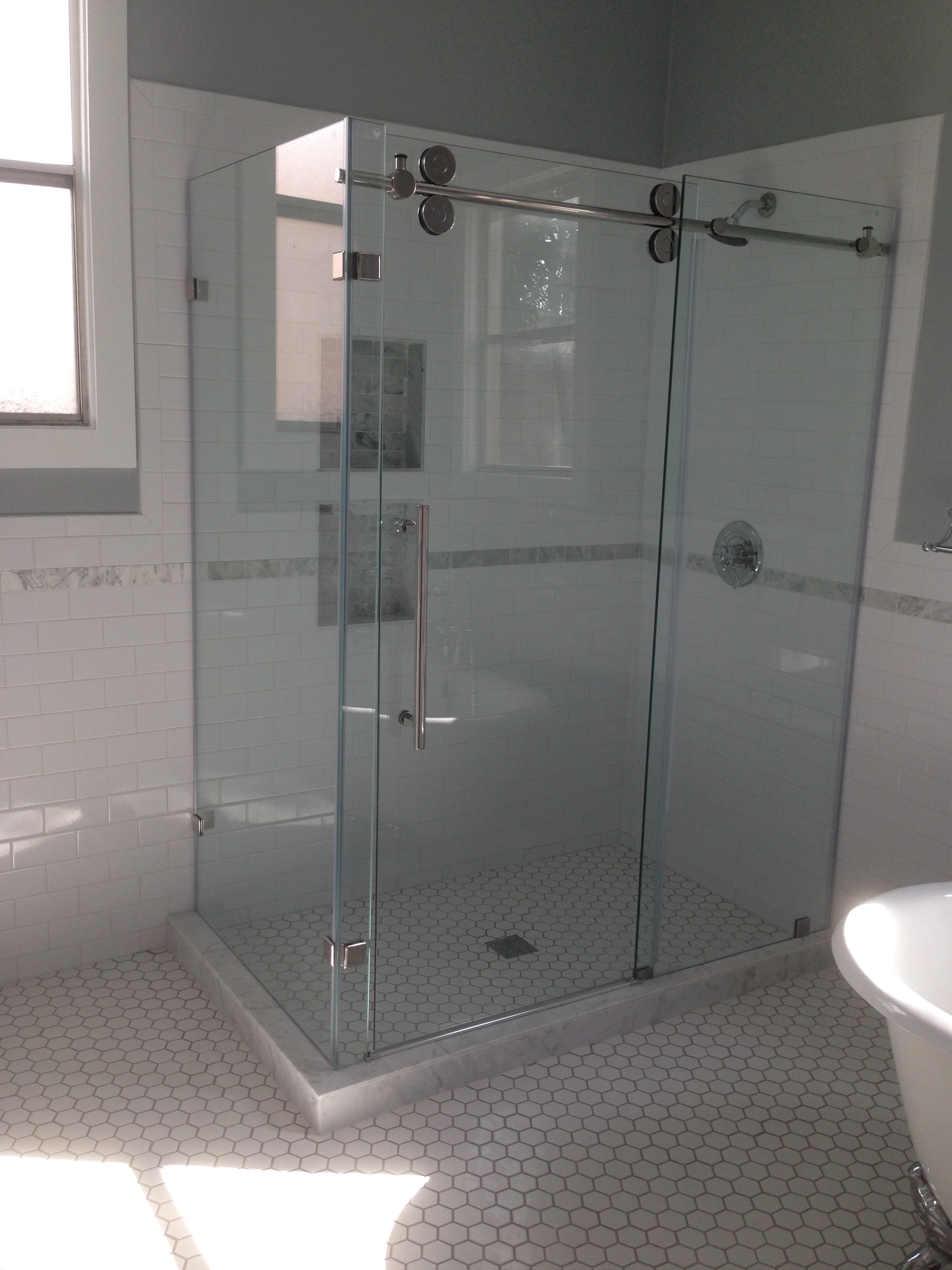 Frameless shower enclosure by Vigo by way of Amazon.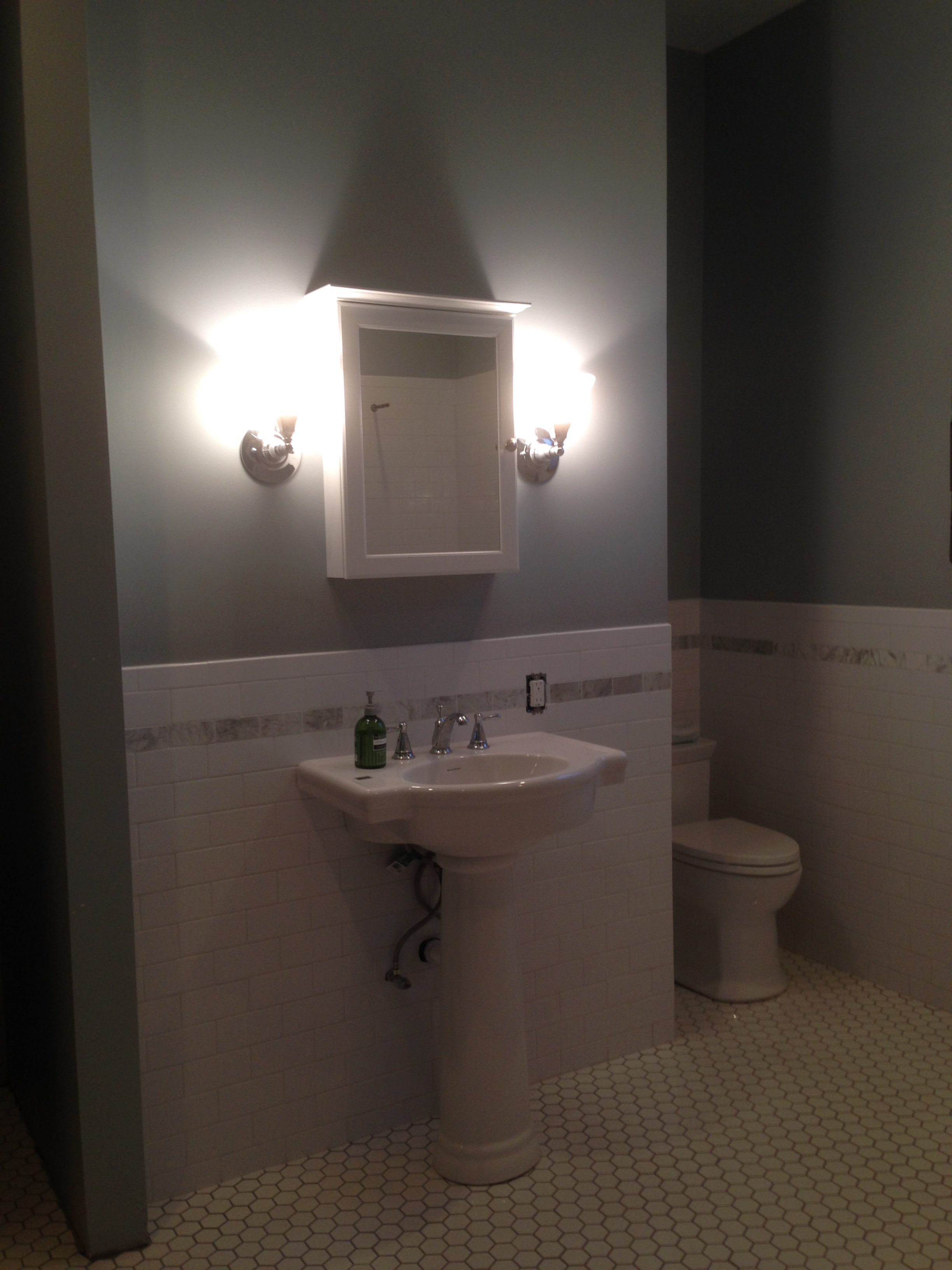 Since the sink we had was so new we reinstalled it. You can't see it here but tucked in to the left of the sink and that little grey wall was a stacking washer and dryer. Turns out the bathroom is a really convenient spot for laundry.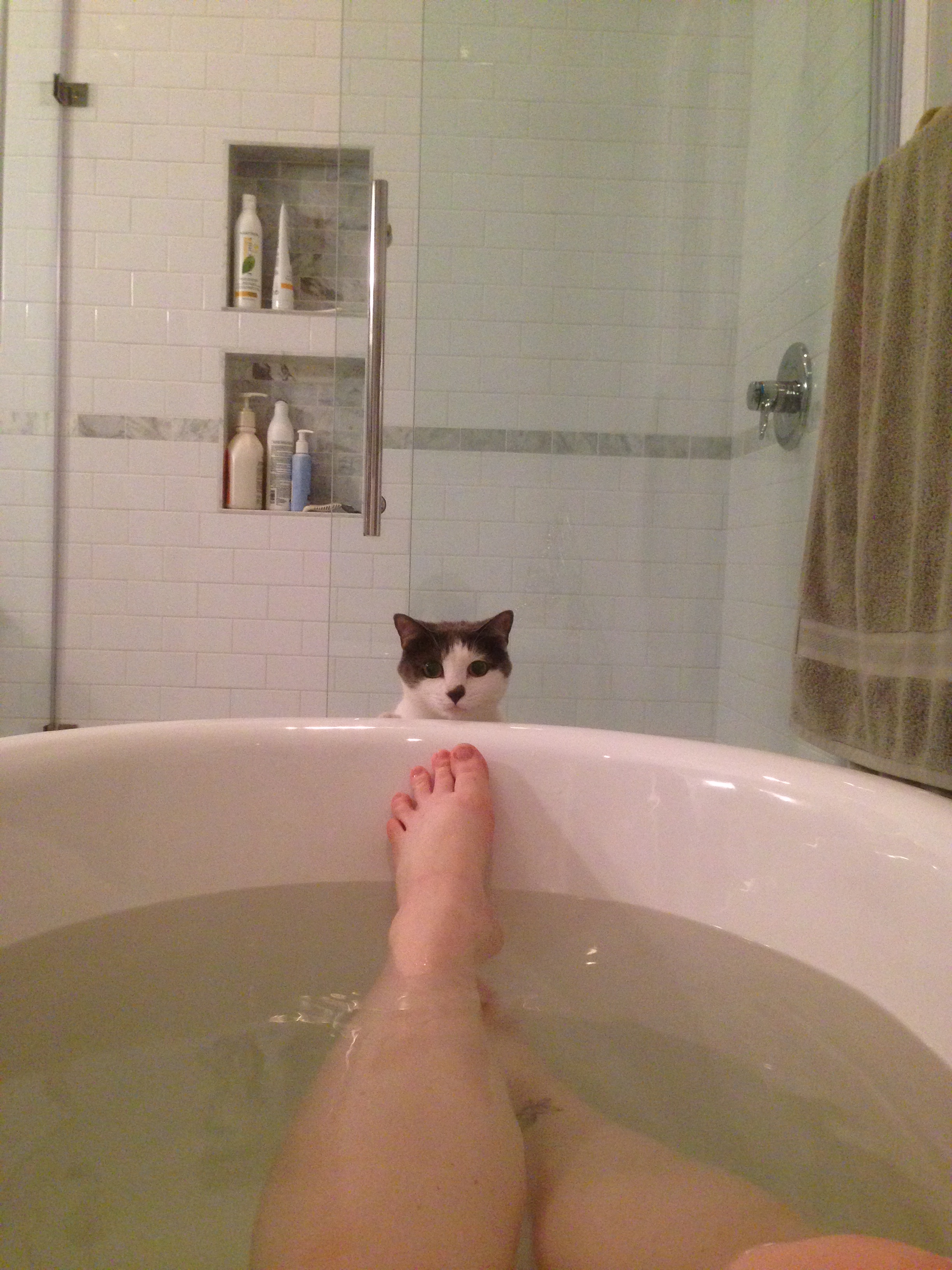 When it was finally done this became everyone's favorite room in the house, including Mooncookie. Gosh I miss that bathroom. We only had it for a couple of months!