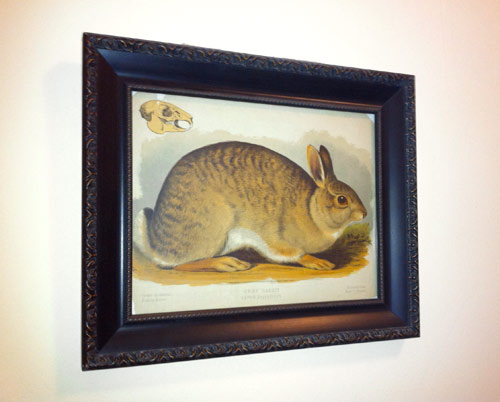 There's been a little delay in getting supplies for the lamp project so instead of updating you on that I thought I'd take some pictures of the bedroom to show the environment I'm preparing the light for. It's so small and dark in there that it's nearly impossible to photograph but I took some closeups with limited success.
The walls are vanilla colored. Cream. We have 19th century prints of a hare and skunk framed in black wood above each of our (matching) dressers. The dressers look like this, only A LOT LESS BLURRY: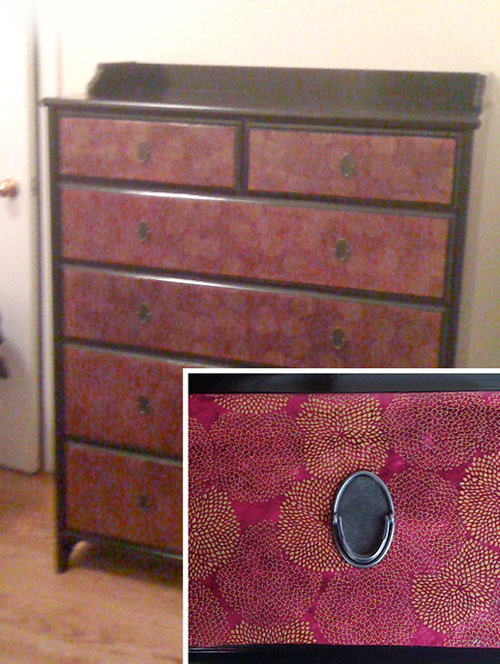 The dressers are an ikea hack: painted glossy black with the drawer-fronts papered in dark magenta with a gold mum print. They look kind of like a laquer box. The hardware is black, and the bed is black iron with grey bedding: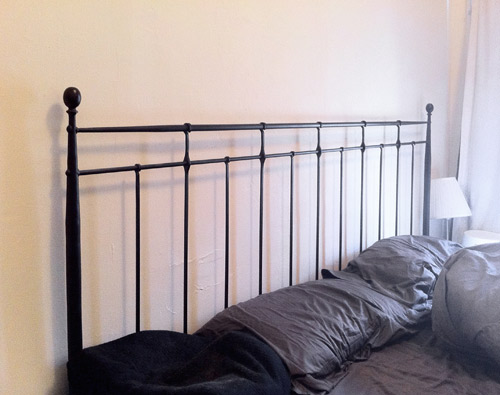 Pretty plain and simple. The only real color in the room is the dressers, and I thought it'd be nice to play up the gold print with the new light fixture (you can only have so much wrought iron and darkness in your life, right?). I'd love to have a luscious curtain on the single window, and I'd love to paint the ceiling and moulding in some gently complementary color, maybe even  hand-paint subtle metallic stars on the cream, but this room got the short end of the stick when we were moving in – the only thing I did was paint over the cold blue color it was before. We decided to use the biggest  bedroom as our combined office and this room was more of an afterthought. But now I'm going to give it a little love.
Supplies are en route! Light update next week.