I've been thinking a lot about what our next big project should be. Would you like to weigh in? The candidates are:
Remove the drop-ceiling in the kitchen or Total bathroom/laundry renovation.
Let's look at the kitchen ceiling first. The late 1950s brought many changes to this house. The then-owners wanted a cozy kitchen in the style of the time, meaning dark wood cabinets, loud wallpaper and inset flourescent lighting. And of course, a lowered ceiling. Have you seen Betty Draper's kitchen? It was a lot like that.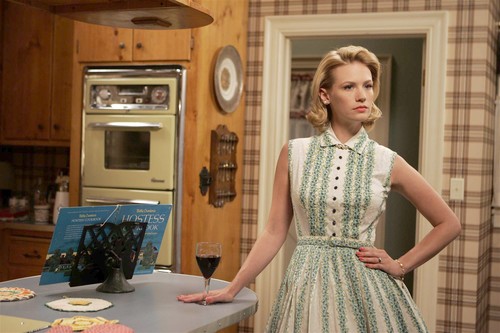 Click through for the breakdown and pics!
That's great if that's your thing. If this were a ranch house or even a bungalow I could see it, but it's not, it's an 1890s victorian. We've done a lot to make the kitchen look bright and airy (I'll save that for another post), but the ceiling remains. Look! They just covered right over the tall window!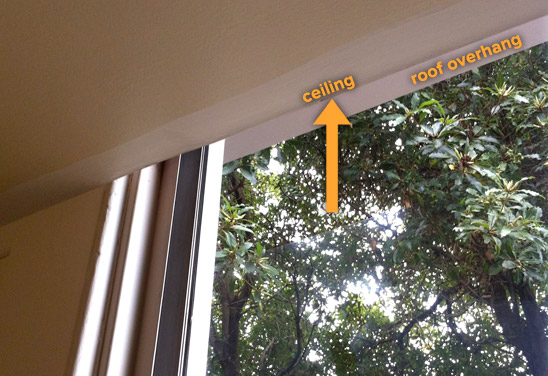 There are perfectly reasonable 10-foot ceilings up there! Admittedly, we'd have to re-do the old ceiling because they pierced the plaster with beams to hang the lower ceiling from. I'm okay with that. But it's not just aesthetics that fuel this project.
Our only attic access is through two kitchen ceilings, and we just can't make it work with a ladder and two levels of access holes, one of which (the hard to reach one) is about 12 x 18 inches. We've lived in this house for more than two years and we've never been in the attic. We've never seen the wiring (I suspect there's some linen-wrapped knob and tube action), and we've never checked for roof leaks. I know a little squirrelly person could get up there, but I can't.
This project would make for a very dirty kitchen for the duration. We would do most of the demolition ourselves and we're not sure what we're going to find that needs correcting up there. Still, it'll be a much faster project than the bathroom.
Now the bathroom. Again, the 1950s are proudly reflected here. Actually the look of it is kind of great – pink and black and chrome. But even if we wanted to keep it looking as is, it would require a total overhaul because it's all starting to fall apart.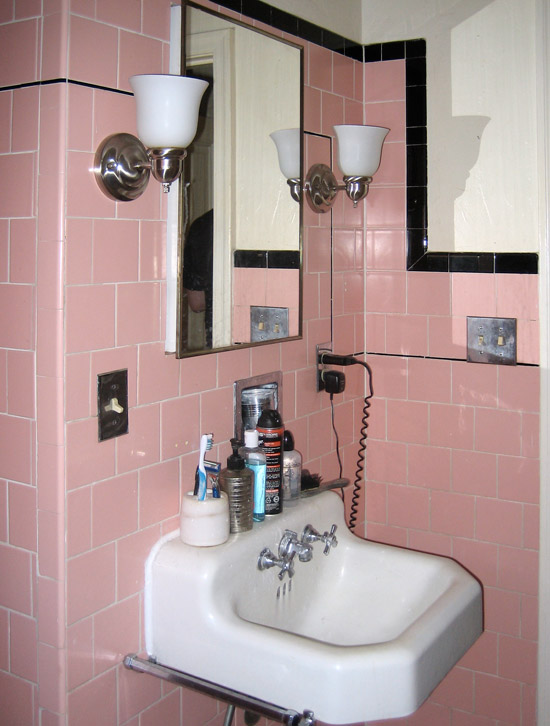 There's a leak from the bath pipes to the basement that we haven't been able to isolate (we tore out part of the ceiling in the basement and put a pail there that remains to this day). It's causing the subfloor of the bathroom to warp and swell. On top of that is really ugly modern vinyl flooring. There's a window but no airflow and that makes for a lot of mildew. The tile grout is giving up this mortal coil, the sink and tub are worn away and porous and consequently always look dirty. It's a 60-year old bathroom and I for one don't want to think about all the people who have used it. And there's more: behind the bathroom wall is an awkward laundry room and a WALLED-OFF CLOSET!
That's right, 10 square feet of unused floor space SITTING THERE EMPTY AND INACCESSIBLE. In fact everything you see here in yellow is currently unusable space! We would combine all of this and put the laundry in a closet in the bathroom.
If we tackle the bathroom it's going to be long and expensive and we'll have to install a shower in the basement bathroom to make it work in the meantime. It's going to cost a lot, but in the end it'll be beautiful and add to the value of our house.
Obviously they're both expensive projects, the bathroom much more so. But let's put finances aside for a minute.
Ceiling pros:
Less expensive
Attic electrical access is a safety concern
Another step on the way to a great kitchen
Will allow for future projects, such as new ceiling lighting in living room and attic insulation
CURIOSITY
Bathroom pros:
NEW BATHROOM
Taking actual baths!
Much better laundry access
No more leaks in the basement
Good return in home value
Whole house plumbing improvement.
Opinions? Advice? Have at it!